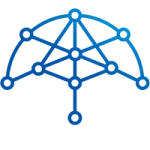 Umbrella Token Bridge
Brief description of the bridge
This bridge allows you to transfer UMB Token cross chain between Binance Smart Chain and Ethereum Blockchain.
Supported networks
Limits
Limits wasn't found. If you find it, please, contact us to [email protected] (include the name of the bridge in the subject line of your e-mail)

Smart Contracts
All information about Umbrella Network smart contracts you can find here.
Audits and Exploits
Here's some latest news about recent exploit.
What is Binance Smart Chain?
BSC is a dual-chain architecture that will empower users to build their decentralized apps and digital assets on one blockchain and take advantage of the fast trading to exchange on the other.
https://www.binance.com/
What is Ethereum?
Ethereum is both a blockchain network, an application platform, and a full-fledged programming language. The goal of the project is to create and publish distributed applications that do not require third party trust.
https://ethereum.org/en/
1