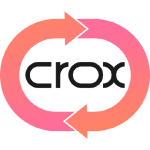 CroxSwap Bridge
Brief description of the bridge
CroxSwap (CROX) is the next generation cross-chain DEX protocol to bridge your assets across networks with cheaper and faster service. The bridge tool will open for multiple chains which include BSC, ETH, Polygon(Matic), Fantom, Tron and more. Cross-Chain bridge is a swap protocol to move your assets across different blockchains like Ethereum, Binance Smart Chain, Polygon, Fantom, Tron etc. Development of cross-chain bridge is still in progress!!! In initial phase we are going to launch Polygon(MATIC) and ETH bridges.
Supported networks
Smart Contracts
Unfortunately, smart contracts wasn't found. If you find it, please, contact us at [email protected]

Audits and Exploits
We're not found any audits or exploits. If you find something or have any information about it, please, contact us at [email protected]

Limits
Limits wasn't found. If you find it, please, contact us to [email protected] (include the name of the bridge in the subject line of your e-mail)

Bridge Token
Bridge token wasn't found. If you have any information, please, contact us [email protected]

What is Binance Smart Chain?
BSC is a dual-chain architecture that will empower users to build their decentralized apps and digital assets on one blockchain and take advantage of the fast trading to exchange on the other.
https://www.binance.com/
What is Polygon?
Polygon is actually a layer-2 scaling solution whose main objective is to convey mass adaptation to the Ethereum platform. Polygon brings Layer-2 scalability to Ethereum with its multi-chain ecosystem. It drastically improves the overall efficiency and workings of the Matic network. The main aim is to create more and more solutions to scalability.
https://polygon.technology/
What is Fantom?
Fantom is a high-performance, scalable, and secure smart-contract platform. It is designed to overcome the limitations of previous generation blockchain platforms. Fantom is permissionless, decentralized, and open-source. Lachesis, its revolutionary aBFT consensus mechanism, allows Fantom to be much faster and cheaper than older technologies, yet extremely secure.
https://fantom.foundation/
What is TRON?
Tron is a blockchain-based decentralized digital platform with its own cryptocurrency, called Tronix or TRX. Tron aims to host a global entertainment system for the cost-effective sharing of digital content. TRON provides a decentralized virtual machine, which can execute a program using an international network of public nodes. The network has zero transaction fees and conducts approximately 2,000 transactions per second.
https://tron.network/
What is Ethereum?
Ethereum is both a blockchain network, an application platform, and a full-fledged programming language. The goal of the project is to create and publish distributed applications that do not require third party trust.
https://ethereum.org/en/
1